Your local, family owned luggage repair centre that cares to provide quality workmanship, so your bag brings you joy for many more years
Need a fix for your luggage wheel or handle? DA is here for you
How this Works - Easy As ABC

Convenience - in the comforts of your home
Whatsapp us a picture of your luggage wheel or handle needing repair at +65 8874 6244 

or use our

contact form

.

You will receive a quote on the cost of the repair.
Upon confirmation, an appointment will be arranged for our collection to pick up your bag for repair

Easy pick up and delivery
Our delivery service will come pick up the luggage bag from you
Once the luggage repair is done, you can select the date of delivery
Our delivery service will then be at your doorstep, with your luggage bag ready for your next trip
Peace of mind
We are so confident of our quality luggage repair workmanship that we are pleased to offer a 3 month warranty on the replaced part. It covers:

From the delivery date to you; and
Both manufacturing defects and damage occurring from normal wear and tear
Ready to get your luggage rolling again?
Live More Mindful Lives, Waste Less
"Live more mindful lives, waste less is at the heart of DA's work. Embracing minimalism, we believe in using quality spare parts in our luggage repairs, so your bags can bring you more joy and travel even longer with you. Start collecting experiences and discover the world with a more thoughtful purpose of happiness. Buy less, for less clutter - instead, send your luggage for repair today."
As featured in our local newspaper zaobao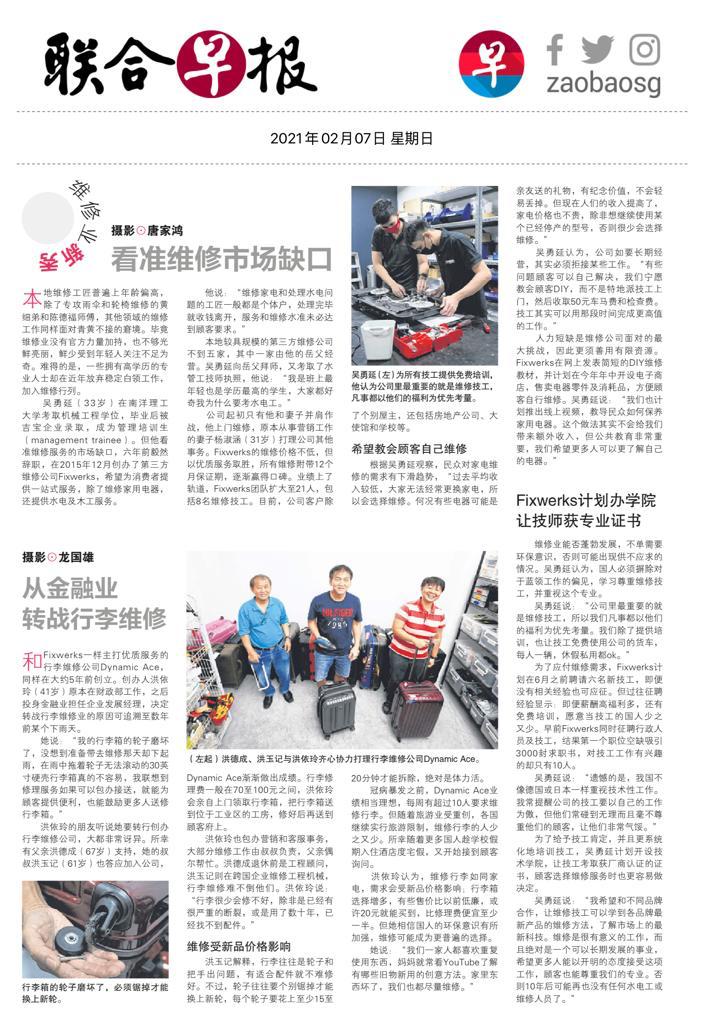 Types of Luggage Repair Services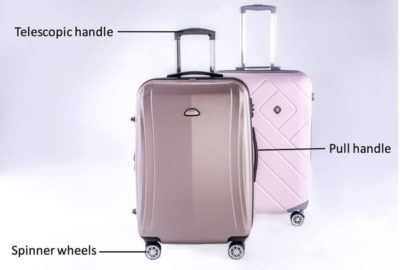 Luggage Wheels
We repair various types of luggage wheels:
We can also replace your single spinner wheels with polyurethane wheels with bearings, which are highly durable and takes weight well.

Luggage handles
We repair luggage handles:
Pull handles on soft luggage cases as well as hard luggage cases
Luggage brands
We repair various luggage brands, such as Samsonite, American Tourister, Delsey, Ricardo, Swiss Gear, Lojel, Victorinox, North Face and more.
Friendly luggage repair service here to assist you
Testimonial from our customers
We were surprised to see our Delsey luggage wheels start crumbling.  We've used the bag about 10 times, and it was only about 3 years old -- so it was really disappointing to see the rubber cracking off the wheels from a somewhat reputable brand (no Rimowa/Tumi -- but Delsey's no slouch either).
We did a web search of the various repair services in the Eastern side of Singapore.    We got quotes from 2 or 3 repair services ... all were above 100 SGD and above to replace 4 wheels, and one even said the replacement wheels would be second hand.  And all you had to pay extra for collection services.
Called Dynamic Ace as part of our price benchmarking  ..didn't expect to use them as they were in the West and didn't think they'd come to pick up the bag.   Was very surprised to find out that they would collect without an additional price, AND the price quoted was under $100 SGD.   I was also a little hesitant as we were going to be traveling in 2 weeks -- but they put a rush on it and returned the bag in 5 days.
Whats more is that they gave us the option of using Polyeurathane wheels -- I have these in my Tumi, and noted the durability (use it even less, but no crumbling wheels).  They spent time educating on the benefits, and even caveated that there would not have those interesting rims for the wheels.  No big deal for those looking for functionality over form.   No extra charge for using those, and also explained that as the ball-bearings were made of steel, it would be better at bearing load.
Fast Service.  Most reasonable price -- and most of all best value for dollar.   Highly recommended.
Mr Tan, East Singapore
While packing for my long business trip for the next day, I noticed my Wenger luggage wheels had worn off. This was a Sunday and most of the luggage repair shops had closed. I called up Dynamic Ace who came quickly to pick up my bag and had it repaired and sent back within a few hours. Thank you for this quick service!
Janice, Ang Mo Kio
I really like the friendly pick up and delivery service of Dynamic Ace. This saves the hassle from having to take a cab ride to bring my bag to a repair shop and then have to make a trip again to collect it back. I have recommended them to my friends!
Cat, Woodlands
Get started with DA quality luggage repair